PF Solutions System Advantages
The permanent formwork wall system provides a Modern Method of Construction (MMC) similar to a pre cast wall system, but with several distinct advantages.
Some of the main inherent advantages of the PFSolutions System, in comparison to pre cast and conventional forms of construction are:
Reduced construction programme – typical cycle-time per floor is 10 working days including first fix, mechanical and electrical.
Reduced labour requirements – structure can be erected with a minimal labour force and a lower capacity self-erector crane.
Off-site construction – approximately 60% of works completed off-site including reinforcement to walls.
Design and Build Service – reduced project management/coordination requirements.
Flexibility – all M&E services are site installed prior accommodating any late changes in layout.
Excellent thermal fire and acoustic ratings.
Health and Safety – panels are relatively light, making them easier and safer to install. A typical 6 meter long panel is equal to 1.2 tonnes.
Construction tolerances – excellent tolerances achieved due to factory production and ease of installation.
'Just-in-time' deliveries – minimal requirements for site equipment ensures a clean and uncluttered site in conjunction with a zero-waste policy.
Minimal wet-trades – the panel finish is such that minimal wall or slab-soffit preparation, other than cleaning, is required before the panels can be painted. Localised taping and jointing is required at joint locations.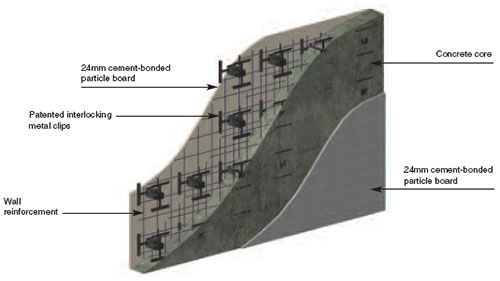 Typical PF Solutions Wall Build-up